I enjoy living in a four season climate most of the time. I really appreciate the change in seasons, and much of the time Denver has a pretty mild climate overall, with lots of sun year around. I enjoy the season to season changes.
Right now it's still warm in Denver. Weather will be in the mid to high eighties during the day through the weekend, and next week the highs are scheduled to be high seventy to eighty some degrees. Even so, it's getting cooler at night, meaning that a few leaves have started to fall here and there. Plants and flowers are still in bloom, although a few have been brought inside to protect from the cool night air. Bees and flies abound! As we move to October the nights will get cooler with average temps dropping to as low as sixty degrees.
This means that I need to start preparing for cooler weather, even though things are warm as can be for the moment. I'm trying to make my frugal fall planning list and check it twice!
For example, I never had to have a serious robe in Dallas, and it's on my list to get one, and soon. While most days in Denver are warm and sunny in the afternoon, thee mornings are sunny and cool. If I've said it once, I've said a hundred times how much I enjoy relaxing and reading in them morning on the patio, and a nice robe will let me do that almost until Christmas. I might have moved to a slightly cooler climate, but I'm determined to enjoy my yard as many days as possible. Slow riser that I am, I appreciate my hour or so outside with nature.
I need to check my insurance and get that flu vaccine in the next few weeks. I won't jump into the flu vaccine debate, except to say that the vaccine does not cause the flu and say that for me, it has kept me from having the flu every year I have had it. Readers may remember that last year my sister had the flu for a full week, and my son had it so badly that he had to go to the hospital. I was in close proximity to both, and except for a stuffy nose, remained healthy. The CDC suggests getting the shot by October and most insurance providers pay the full fee for people sixty and older.
I'm also stocking up, in the cold and sniffle preparation department. While I will get a flu shot, sniffles and sore throats can still arise, as can the occasional migraine headache (due to some serious barometric changes in the fall). My college student especially has serious issues with barometric changes (as well as changes in altitude. A week visit to Texas gave him four days of head trauma after our return). Since these are things that are on sale now, I am stocking up on Kleenex (one area i have not yet moved to cloth), cough syrup, and some of the other basics.
I'm having fun experimenting with making my own home remedies, as much for the fact I prefer them as the fact that they are frugal. This appeared in my feed this morning-sliced lemon covered by honey and refrigerated-you just need a spoon to add to hot tea-and in my case a teaspoon of rum our bourbon. Yes, I know you cannot cure a cold, but you can make it more comfortable. This recipe calls for a little ginger as well.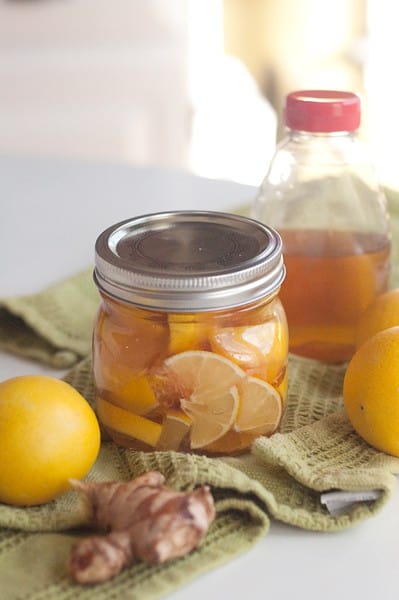 On the home front, I'm reminding myself it's time to replace the old air filter, and double check all the alarms. When it comes to servicing the furnace, I tend to think every two years or so are fine, as long as filters and alarms are maintained. I also want to do a gutter cleaning and pull out all the fall tools such as leaf rakes and make sure I have easy access. Most importantly I need to get the fireplace cleaned! I already have cured wood thanks to a huge tree branch that was felled by heavy snow, and I'm looking forward to the fireplace. Wood fires may not necessarily help the heating costs, but I love them, and we are waiting on the decision to move to gas. I would love to hear thoughts from anyone who has changed out a wood fireplace to gas!
This morning I pulled out a couple extra quilts and I am knitting a large blanket for my living room. It may be 87 today, but it got down to fifty three last night. I've also put extra covering on my beds. I also pulled out the fall colored table covering and most of my fall decorations so that I can wash them and get ready. For me fall is still bright rather than dark so I can use the yellows, greens and golds at almost anytime. And, since I almost always have my house decorating for something, I'm slowly "autumnizing" my mantle and decor.
Everyone in this house has been asking for soups, and I keep saying "soups are not summer food unless they are cold". Now I can justifiably pull out the slow cooker and make home made soups and breads (together fast, frugal, healthy and easy). Soups are one of those things that are almost always frugal, even the tastiest ones with the "expensive" ingredients, especially if you make your own broth. I have clam chowder, baked potato, and broccoli and cheese soups on my short list. I also found another one of those restaurant copycat style dishes, this one for slow cooker broccoli and beef. I'll let you know how it turns out.
Last but not least, I'm preparing my own little living room corner. After all, it's football season. That and the new TV season mean I'll be spending more time in the living room and want things to do with my hands. I know have the living room set up with blankets and pillows, books and crossword puzzles, and knitting and sewing. While I'm not addicted to television, and I use my DVR liberally and often, there are certain shows such as The Blacklist, The Bridge, True Detective, Gracepoint and more, that will keep me busy in the evenings on occasion. I'm now ready-and have even joined a Fantasy Football group!
Oh, and while I never thought I, liberal left winger that I am would live to say it, there is at least one advantage to living in a solid state, even if it's red. The political commercials in this swing state are constant, and have been since February (not because of a primary mind you) and only gotten worse since the end of August. I cannot imagine what I would do without the advantage of a DVR!
Do you prepare and plan for fall? Do you just take it as it comes? What about winter?
This weekend I'm off to celebrate my birthday with as many retirement and birthday freebies as I can, take a trip to the botanical gardens, and enjoy a retirement day of quilting and sewing. Happy retirement weekend, all!