My knees are much better today. It seems that my cortisone shot also included pain medication and so that made the injections much more tolerable. This means according to my doctor that I can start moving again-or get back on the exercise treadmill as he would say.
Now, I have a confession to make. The word "exercise" and the phrase "working out" both make me want to run from the room. This is not something new. For years people used to tell me that the more I worked out the more I would like working out. To that one, my answer is just-nope! Someone suggested that on some level my aversion has to do with four years of running on pavement with combat boots in my youth, and that person might be right. In truth I was never into sports even as a kid, and the only actual sport I personally competed in other than dance classes was cross country in my twenties for a couple years.
Of course, exercise is a necessity of life, and especially as I enter my sixties. The truth is that I enjoy walking and movement, as long as it's not scheduled and I don't have to think of it as working out, if you know what I mean.
We are certainly all different. My energizer friend and former blogger Tamara makes the exercise/sport/active thing the primary part of her retirement lifestyle. Some folks get their dose of exercise through high energy sports. I know folks older than I who still do black ski runs on a regular basis. Many, if not most, of the retirees I know get their exercise through other ways, and so it is in this house.
Front yard mini garden in progress, we still need to paint the concrete!
My twenty something college student belongs to the YMCA and works out at almost the same time every morning (or after work if he has an early job). My sister has no scheduled exercise. However, she is the one who landscapes and cares for this three tiered backyard, as well as the front yard that is the envy of the neighborhood. Her exercise includes including carrying water down to the level where there is no sprinkler system twice a day (we are working on that one). She also has a dog who thinks that her daily walk should be a ten miler. I on the other hand choose to fit my exercise into different times of the day, depending on schedule and energy.
Our lower yard is obviously a work in progress, but some readers may remember that two years ago this was a play ground with rocks and weed mesh underneath. This is my sister's form of exercise!
I did try to regularly attend a silver sneakers class, and I even tried at one time to walk at the same time every morning. It was not for me. Partly I suppose because I get up when I feel like it and partly because I am just, well, not a scheduler.
This is not to say that I don't need to exercise. I am, after all, the person who purchased that Fitbit Flex to measure steps and sleep levels. I'm also the woman who lowered her blood sugar (some) without diabetic drugs. Even so, I am always working on new ways to get a little more exercise in my day. I figure this is especially important for me because too many of my hobbies and interests are of the sitting down type in the average week. When I sit down to sew or quilt something like the quilt below, I am sitting in place for a long period of time. The same is true of my two Olli classes, my evening college class, and my knitting group, just to name a few!
Two days a week, usually at the same time, I walk in the water for close to an hour. Sometimes this is a solo activity, sometimes social. Both I and my knees enjoy this hot therapy pool experience, but frankly, two days is the most that I am willing to "schedule" that kind of activity. The rest of the time? It is easier and more enjoyable for me to fit it in among the activities of the day than schedule a specific time period. It's easier for me (and probably healthier) to divide up my days and intersperse the other things I'm doing with walking.
In general, I prefer to walk alone. I know others are just the opposite, and would prefer walking buddies or a group. But in addition to exercise, my walking alone outside time is a time for me to let my brain go on autopilot-its great for creativity and clearing out the cobwebs.
Yesterday, as usual, I dressed in my uniform of black knit pants, my comfortable SAS shoes, and a bright top and jewelry to carry me through the day. These shoes are called "Relaxed" by the way, and now that I've worn them for awhile, my previous opinion is the same!! Of course, as you can see I have that other accessory, my Fitbit, on my arm. For me, this kind of outfit will take me from my sewing table to knitting to walking to lunch.
In the morning and afternoon, I worked entirely on line in my chair looking out the window. My day REALLY needed to be broken up before I headed to my studio to finish the quilt below. I also realized that all of my large 22 oz drinking glasses (I like a big water glass) had disappeared, so I took a quick trip to Target to get a few Libby glasses. I did grab lunch out, as I enjoy eating solo on occasion. I also walked around the outer walls of Target four quick times-the place was full of back to school shoppers and all kinds of new fall products so I had plenty to look at as I walked.
Today, I have knitting in the afternoon. I hope to take a walk up the path to my favorite quilt store, book store and bakery (a little less than a mile each way), and then come home and grab my knitting bag-a Vera Bradley purse-and head out for my afternoon of scarf making and visiting.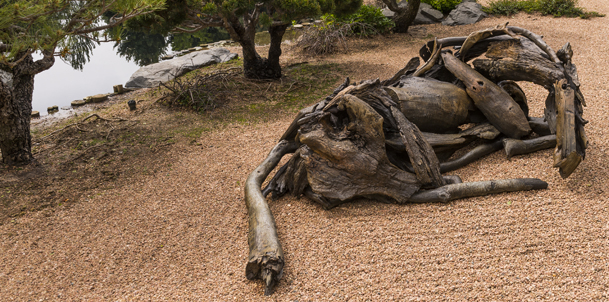 The Young at Heart group at my church has a bus trip scheduled to the Denver Botanical Gardens to see the Corpse Flower and the Deborah Butterfield horse sculptures. I'll probably walk a few miles, enjoy friends and the weather as well as the view. My kind of exercise!'
I am sure that for many of my readers the exercise I do is not enough. One to two miles of walking on an average day is my limit, with at least twenty minutes of that being at one time. Some retirees prefer jogging and high aerobics, and some get exercise from sports. My late husband used to walk the golf course for eighteen holes with his bag instead of using a cart. For me, walking is the right exercise on so many levels, on land or water.
It is true that if you don't move it you lose it, and the walking I do keeps me limber enough that on those rare occasions when I am willing to push the knee (knowing I will pay for it later) I can do so if I think it is worth the effort. I did climb all the way up to the caves at Bandelier National Monumentt (although not walk through them), and I did walk up and down and down and up those hills in downtown Seattle. In neither case were those things I could do on a regular basis with my knee injuries, but continued exercise allows me to do things like this while traveling on special occasions. It works for me.
Oh, and just to show that I know aerobics is not the only path to health, I recently picked up two, three pound weights. Yep, a weakling am I! Hopefully, however, by using my little weights and my U-tube video, some strength will appear in these arms of mine.
And so it goes....................a single walk at a time!